Mount Bromo Ijen Crater Tour 3 Days 2 Nights. Travel to East Java Indonesia explore the best volcanoes of Mount Bromo and Ijen Crater Lake. Our company offers to those of you who will come to Indonesia, especially visiting Mount Bromo and Ijen Crater. The bromo and ijen tour package that we offer are very flexible, you can set your own time and anytime because what we provide is a private tour program.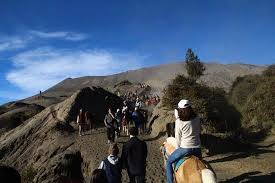 Only to share travel information to Mt Bromo + Ijen Crater. You will never regret it once you visit it even though this trip feels tiring for most people because it is too far a journey taken (a 5 hour trip from Mount Bromo to Ijen crater).
Mount Bromo Ijen Crater Tour Package 3 Days 2 Nights
This is a 3 day tour, 2 nights from Malang or Surabaya to Bromo and Ijen Blue Fire and ends at the beginning (Malang or Surabaya) or to Ketapang Harbor to Bali. You can start the journey directly from the airport or station or hotel upon arrival in East Java and it's standard travel to MT. Bromo and ijen Crater offered by most travel companies.
On trip to Mount Bromo Ijen Crater 3D2N, it is expected that in prime body condition because this tour is quite tiring because every tour to Bromo and Ijen is required to get up early in the morning and sometimes fall asleep in the car, it is common.
If you come to Java and are going to Bali, take a tour of Mt. Bromo and Ijen first and then finished by taking the ferry to Bali. This is what many foreign tourists do before continuing their tour on the island of Bali rather than having to return to Surabaya or Malang Airport with an 8 hour drive.
Mount Bromo Ijen Crater Tour Package Price
2 people of group : 2,950,000 IDR per person
3 people of group : 2,350,000 IDR per person
4 people of group : 2,050,000 IDR per person
5 people of group : 1,850,000 IDR per person
6 people of group : 1,750,000 IDR per person
7- 10 people of group ==> Don't Hesitate To Contact Us
Mount Bromo Ijen Blue Flame Tour Includes :
Private land transportation, include car, driver, petrol, parking and toll fee
1 Nite Hotel Accomodation in Mt Bromo (Cemara Indah Hotels, Cafe Lava Hostel,Bromo Permai Hotel or Similar with standart room)
1 Nite Hotel Accommodation in Ijen are (Ijen View or Palm Hotel)
Entrance Fees For Mt Bromo Tour and Ijen Blue Fire Tour
Private Jeep Transport for Mount Bromo Tour Package
Breakfast and Mineral Water
Guide for Ijen Blue Fire Trekking
Gask Mask Rent in Ijen Blue Flame Tour
Mount Bromo Ijen Blue Flame Tour Excludes :
Flight Tickets
Early Check-In or Late Check-Out at Hotel
Meals (lunch & dinner)
Personal Expenses
Travel Insurance
Rent Horse In Bromo
Itinerary Mount Bromo Ijen Tour 3 Days 2 Nights
Day 1: Pickup location (Meeting Point)
Pick up participants at agreed locations, mostly from the train station in probolinggo, Malang or Surabaya if they have just finished their tour in Yogyakarta or from the Surabaya international airport if they come directly from your country.
Day 2 – Mount Bromo Tour
A jeep that came to pick up around 3:30 a.m. and the driver took us to Puncak Penanjakan to catch a sunrise overlooking Mount Bromo. Finish bromo sunrise tour then take a jeep to Mount Bromo (parking area) to continue climbing / walking to Bromo crater. The hiking trip takes less than 45 minutes and there are locals who provide ponies for people who are lazy to walk or just want photos.
After the trip to Bromo, return to the hotel and continue with a 6 hour drive to reach Ijen. Check in hotel ijen and take a break.
Day 3 – Mount Ijen Blue Fire Tour
Climbing to Mount Ijen is more manageable compared to other mountain climbing, be prepared to climb the slopes of Mount Ijen starting at 1am to chase the Ijen crater blue fire and highly recommend for anyone to rent gas masks because sulfur smoke can be very dangerous in some parts of the climb.
Next after the blue fire ijen tour, the guide took us to another place to see the sunrise. Then taken to see Lake Ijen which is green from the chemical reaction of sulfur.
Back to get down to the post and get ready for us to take you to Surabaya, Malang for your return flight or ferry port to Bali. Finished
How To Book Mount Bromo Ijen Tour Travel Package
Please send us an email with some details below :
Your name, your e-mail, phone (whatsapp), number of participants, date of tour, details of arrival and departure.
E-mail : liburanbromomurah@yahoo.com